Communal forces in India want to disturb peace in IOK: Geelani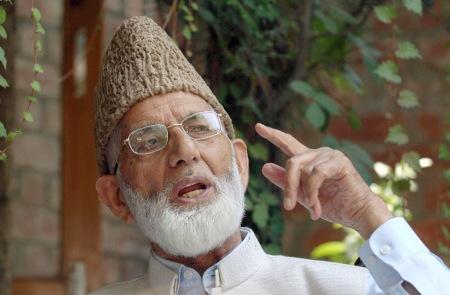 SRINAGAR, (SANA): Chairman All Parties Hurriyet Conference (G), Syed Ali Geelani has said that communal forces in India are hell bent upon disturbing peace in the territory.
Syed Ali Geelani in a statement issued in Srinagar said that these communal forces through the cultural aggression wanted to eliminate the environment, identity, culture and social values of Kashmir and wanted to forcibly setup their own culture in the territory.
Syed Ali Geelani called for complete shutdown in the occupied territory today (Saturday) against the reported plans to start the annual Hindu pilgrimage to Kausarnag in Kulgam.
He pointed out that the pilgrimage actually was a political decision made under the pressure of the communal-minded people and its only purpose was the cultural aggression on Kashmir.
He said that the puppet authorities of the occupied territory were playing an extremely criminal role regarding this issue and instead of raising their voices against this aggression, they were extending their cooperation in every possible way.
Syed Ali Geelani said that Kausarnag was a very important source of drinking water for millions of people located at a very high altitude and it was also the only source or irrigation for lakhs of acres of agriculture land. The presence of large number of people at this location will not only endanger this important source of water but prove dangerous and destructive for the fragile environment of the region, he stated.
"The people of Kashmir are not against Hinduism or their religious beliefs, but making Kausarnag as new Yatra destination is actually a political decision and not a religious one and its only purpose is to harm the freedom struggle of Kashmir and sabotage the wishes and aspirations of the local population," he added.
He maintained that the new government in New Delhi was following the footprints of its fast-friend Israel and was planning to make the new Gaza in Kashmir.
Ends-SANA-AK
http://www.sananews.com.pk/english/communal-forces-in-india-want-to-disturb-peace-in-iok-geelani/
Comments are closed.